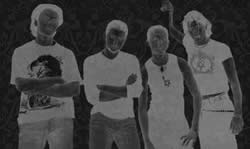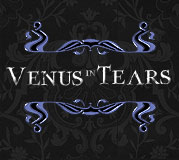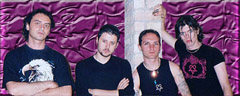 Venus In Tears was born from an idea of Lestat (singer, guitarist) in the year 2K.After many line up changes the band found its ideal equilibrium just one year later when Beppe, Max and Cat joined the singer Lestat.The origin of the bands' name it has to be found in the famous Velvet Underground song "Venus In Furs", but most of all in the movie Velvet Goldmine ( a film inspired by the life of David "white duke" Bowie). You may ask yourselves the reason why of this decision:
-...Cuz' in the film you can take a pure breath of what decadence really is. When I started to think about this musical project, I was thinking and wondering about the deepest obsession that we feel and we live on our skin when we love something or someone. My lyrics are based upon these guide lines, with my lyrics I'm trying to rappresent how much frequently love can turn into hate or something like this.Anyway, through my life, I realized how can love be beautiful but in the same time as quickly as hell it can turns into a nightmare.( See the lyrics of "Her beautiful sadness").
[Lestat]
Lestat loved so much the movie that is mentioned above, that he decided to "change" the main movie band name (Venus In Furs) into Venus in Tears, because he was looking for a simple word that could be the pure expression of a joyful and sad "State of heart": TEARS. Venus is the symbol of female beauty but at the same time of decadence because beauty is not eternal, it is something that change day by day, hour by hour. Beauty is the unit measure of decadence, it is the thin border between love & death, between the daylight and the darkness.Now, please stay with us and enjoy the beauty and sad word of Venus In Tears.